by Marcos Hassan
You can use the name "post-rock" if you want to or not but you can't deny the existence of (usually) instrumental music played by certain rock bands that defy song structures and familiar sounds for a more open-ended approach, resulting in music that unfolds more like symphonic pieces instead of songs or albums. The name of the "genre" or the discussion of it's very existence is a different matter, but one characteristic this music has is the sentiments it communicates: these pieces either sound like beautiful numbness of fatalism and hopelessness, like watching a big tragedy happen thru a window and not being able to do anything about it, or of complete desperation and anger. It's either feeling a lot or feeling nothing at all.

You could say that no band has made this their trademark as clear as Tokyo's Mono. Whether they're post rock or not is besides the point; for most of it, their music unfolds with disturbing peace, rumbling with delicacy over things that have gone wrong and should feel sad, yet it seems it's just there without a word, but after listening to the sound of emotions getting cut, things are bound to happen and sometimes those same emotions that weren't supposed to be there, explode in an aggressive, violent manner, resulting in cathartic moments during your listening experience. The band, comformed by guitarists Takaakira "Taka" Goto and Yoda, bassist Tamaki and drummer Yasunori Takada, also inject a big dose of themselves by focusing their music thru their Oriental upbringing and everyday life, making them sound exotic, fascinating, confusing and alien to listeners around the world.

There's no better example of this than their latest full-lenght album, 2004's brilliant , Steve Albini-produced Walking Cloud And Deep Red Sky, Flag Fluttered and The Sun Shined, in which they take the instrumental sounds of Mogwai, Godspeed You Black Emperor!, Explosions In The Sky, Tristeza and even Pelican to serve as the language in which they tell a story that's happening today in our lives, after tragedy has striken and we have to step outside and keep on living our life. Somewhere in between this story, the band also manages to give us the story of the The Thousand Paper Cranes, in which, legend has it, wishes are granted by the gods to a person who manages to fold a thousand paper cranes; this story was told to a girl in 1955 after she got leukemia from the effects of the bombing of Hiroshima, she heard this story as her last hope. This is the very underlying theme of Walking Cloud..., even thought the story in itself changes from person to person, tragedies are personal after all, even if they are massive. Mono takes the numbness of their earlier work to give it a voice and a saddened salty tear, a voice and a reason, yet it still has that windowpane quality that's so new millenium, post 9/11.

The band debuted in 2000 with the Hey You EP, which was followed by Under The Pipal Tree, released by Tzadik; One Step More and You Die, a breathtaking journey of an album, was released in Japan in 2002, issued the following year in Europe and America; a remix album, entitled New York Soundtracks, featuring artists such as DJ Olive, Aki Onda and Jackie-O Motherfucker, arrived last year. They have played with the likes of Dillinger Escape Plan, Cult Of Luna, Einstürzende Neubauten, Shellac, Bardo Pond, Rovo, Explosions In The Sky and Jim O'Rourke. They've just finished an American tour which was followed by an European tour; they plan to tour Japan this summer with Pelican, who are also doing a split together which will be available this September. But before, Takaakira "Taka" Goto spoke to us, as he expressed his band's beautiful ideas about music and human communication, as well as their heavy band pals.
Marcos Hassan (The Obsolete): Who or what inspired you to play the music you do in Mono?

Takaakira "Taka" Goto: It's hard to think of a specific person or a matter. Recently, for these couple of years, touring itself is a strong inspiration. Also I feel a sympathy with the film director Lars Von Tier and his Breaking the Waves.

Were you inspired by any local scene and/or any Japanese artists?

I don't think I ever was.

Ohh, so was it hard to play this kind of music in Japan? 

Japan doesn't have a good environment to nurture the underground music scene. But we believe it's important for us to keep the independent activities working.

Sure, same mission here. Comparatively to your situation back home, has it been hard to be known in Europe and America? 

We are very fortunate we've been able to keep touring. Every time we come back to tour, we are making a progress in a positive direction in many ways. The relationship with the audience has been established very well.

Is there a a big difference between playing in Japan and playing elsewhere, culturally speaking?

I don't feel any difference at all. Over the years of worldwide touring, the audience and friends have made us realize the music goes beyond cultures or languages.

What are you trying to express with your music? 

Subconscious feelings of a human, that every one of us has. We want to express joy and sorrow of our human lives.

Now i get why you go over well beyond cultural or linguistical boundaries. So what is it about instrumental music that appeals to you so much?

It's the only way of expression we can play, so it's hard to describe objectively. I think probably it gives more chance for the audience as well as for us the musicians to look at one's life in the frame of the music.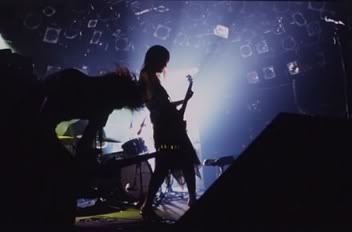 Do you think that your music, being instrumental, is easier to understand and be felt by people who don't speak the same language so they have a better understanding about what you're trying to comunicate? 

Any good music, film, art brings you to the unpredictable world after you appreciate it. I believe in that power. When one piece of work achieve that level, there would be no border, no cultural difference or language difference.

How important is improvisation to you? 

For us, improvisation is not that important now. Writing good music, controlling the emotion that we'd like to convey through music is more important.

So how do you write your songs, then?

Basically I make a demo first. Then we start a session as a band to complete.

What's the origin or inspiration of some of your song titles? Some, like "Sabbath" or "Com" or "Error #9" are intriguing; also, since english is not your first language, it must be different for you to name a song in english than for someone who uses that language everyday and writes lyrics and/or sing on their songs

Up until the 2nd album One Step More And You Die, a good friend mine helped me to title each songs. Then I started writing songs for the album as one story. So I name each song according to the scene of the story.

Oh cool, so it's safe to consider Walking Cloud... a concept album 

Absolutely.

What's the differences between Walking Cloud... and your past albums? 

To me, the feeling of "there's no place to belong" had finally gone after many tours at the time of creating Walking Cloud... It meant a lot, I think. We have a lot of friends everywhere now.

At the time of making Walking Cloud... we wanted to speak up our voice against the war after 9/11. As the Japanese, telling the story of the atomic bomb dropped in Hiroshima and a story of a thousand paper cranes were something we had to do.




What does your music mean to you? 

One and only way of communication.

Speaking of communication, fans and writers have labelled you as part of the so-called "post rock" movement. What do you think of this tag/label/term/genre?

We don't care what the other people tag which music at all. However, we never want to place ourselves into any genre. We never ever want to be a part of categolization.

So who do you consider your peers? which artists would you like to be associated with?

All the artists on our own label, Human Highway Records, are close friends, like a family. Pelican, Cult of Luna, Album Leaf, World's End Girlfriend and many other are the ones we respect and have a great sympathy.

Alright; given those names and from looking at bands you've played with throughtout the years, is it hard to play with bands that play a very different kind of music than you?

If we share the bill at the show, we rather prefer to do it with the bands who play different kind of music.




What's next for Mono? 

Most of all, we'd like to make the new full album our best album. It's going to be released in the next spring.

-------------------------------------------------------------------------------------------
Downloads:
Com.mp3 from One Step More And You Die (click for new window to open)
sample of Halcyon (Beautiful Days) from Walking Cloud And Deep Red Sky, Flag Fluttered And The Sun Shined
Mono's Official site:
www.mono-44.com
Temporary Residence Limited (record label):
www.temporaryresidence.com
Buy Mono cds from Amazon
all photos used were taken from the band's site
Special thanks go to Reiko Kudo for making this interview possible